National Coding Week | Coding initiative brings nation together for full week of free events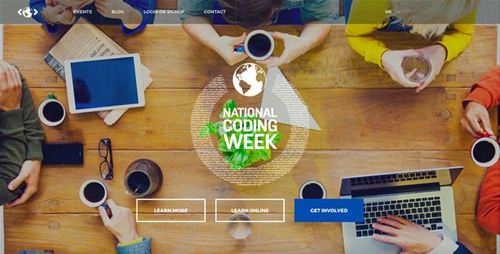 #NationalCodingWeek returns for 2017 to get the UK coding
National Coding Week – running across the UK from 18th – 24th September – returns for 2017 to bring back the popular week-long series of events, run entirely by volunteers. The initiative encourages adults to try their hand at writing computer code, or to just find out more about coding, often for the first time.
National Coding Week website
Events will be held throughout the week in major cities including London, Manchester, Glasgow and Belfast, as well as more remote locations including Jersey and Guernsey. Organisers are calling on Government and the UK tech community to back the campaign once again and show their support via #NationalCodingWeek.
This year, organisers are encouraging businesses and individuals to mark Thursday 21st September in their diaries to take part in a national coding lesson, which people can log-on to and participate in wherever they are. Signing up to the free en masse lesson is easy to do. Those wanting to take part in the 45 minute session should visit codingweek.org just before noon on Thursday. Certificates will be sent out to all who take part.
Face-to-face events taking place up and down the UK, include:
Head of UK events for National Coding Week, Jonathan Channing said: "We're delighted to be bringing National Coding Week back for its fourth year! Our ambition is to reach more people than ever before in 2017.
"With such a mix of events happening up and down the country we're confident that that we'll see hundreds of people giving coding a go. A big thank you goes to the sponsors and the brilliant volunteers who all come together for this week every year to highlight the importance of digital skills, the growing gap and the need to give people a chance to develop these vital skills to help us all succeed."
National Coding Week is supported by platinum sponsor JT Group as well as Gold Sponsors Northcoders, and Bronze Sponsors Rocket Software. Organisations also supporting this year's event include Makewaves, FutureLearn, Digital Festival and Women Who Code.
Ruth Ng, of Northcoders, added: "National Coding Week's ambition aligns perfectly with what we are trying to achieve as an organisation. This week is about breaking down the barriers to learning key digital skills and demonstrating just how fun a career in code can be!"
Tamara O'Brien, Head of Marketing, Brand and Distribution at JT Global, said: "National Coding Week continues to raise awareness of the importance of learning digital skills and that can only be a good thing. An ability to code is already a useful tool and one that is set to become essential in our workforces as technology advances. We firmly believe that NCW will grow and grow and we're proud to be a part of it."
Andrew Simpson, engineer at Rocket Software and host of their HTML event, said: "IT skills are becoming increasingly important in today's workforce. So we're thrilled to be playing our part this National Coding Week to help people of all ages get to grips with the world of programming."
HOW TO GET INVOLVED in National Coding Week 2017
Notes to editors
About National Coding Week: National Coding Week has been supported since inception by platinum sponsors JT Group and this year Northcoders have become Gold Sponsor. It was founded by former Headteacher Richard Rolfe to offer people the opportunity to gain digital skills within their local community. Their aim is to prove that anyone, irrespective of age and background, can learn to write computer code.
Jonathan Channing, young autistic tech entrepreneur, is the head of UK events. He learnt to code and established his own business after attending a simple training course.
For more information go to codingweek.org or follow @CodingWeek #NationalCodingWeek
About main sponsor, JT Group
Based in the Channel Islands, JT is part of the JT Group, an innovative and progressive global communications operator with a vision to become the partner of choice for global telecoms innovation. With over 120 years' experience, JT is now the premier pan-island communications provider with an international presence across Europe, Asia and the United States that has aided its evolution in becoming a leading supplier in roamed services. JT has invested heavily in a resilient off-island network, helping robustly connect the Channel Islands internationally and support their place on the global business stage.
To find out more please visit www.jtglobal.com, www.gigabitjersey.com, and www.jt-lab.com
About Northcoders
Northcoders (www.northcoders.com) is the coding bootcamp for the North. Combining the best of our region, community spirit, grit and determination, with a love for what we do, has helped us achieve 91% graduate placement rates on our 12 week bootcamp. We've recently launched a part-time version of our course, that runs over 24 weeks, to make it more accessible and inclusive.
About Rocket Software
Rocket Software (www.rocketsoftware.com) is a technology company that helps organisations in the IBM ecosystem build solutions that meet today's needs while extending the value of their technology investments for the future.

Credit: National Coding Week | Coding initiative brings nation together for full week of free events